We've got a healthy respect for Seth Appert here at Without a Peer.
While there have been some who have complained about the difficult first three years of the Appert regime, we've always known there was a larger purpose, and we're starting to see the grand plan start to bear fruit. As a wise man once said, "the night is always darkest just before the dawn."
As a player, Seth Appert worked for four years under the tutelage of Ferris State head coach Bob Daniels - who has his team on the brink of an NCAA appearance this year - and as an assistant coach spent seven years learning from Denver's George Gwozdecky. That's over a decade of guidance from some of the best in the game, and he's now applying what he's learned in Troy. It's now apparent - Freakout definitely notwithstanding, as he very plainly explained himself - that the Engineer Renaissance is well underway.
We got the chance to ask the man with the best hair in college hockey a few questions we're sure Ed Weaver and Ken Schott would never ask. We're not as sure about Tim Wilkin. Some of his questions might be more outrageous than ours.
Without A Peer: What happened on Saturday?
Seth Appert: Certainly we're disappointed, and we're embarrassed by the score, but I've got to look at things rationally here. You never want to base your feelings and reactions on the result, you need to focus on the process. Our offense wasn't as miserably bad as the score indicates. The key indicators in terms of mental readiness for the game are how the team plays in the first period and your faceoff intensity. When your faceoff numbers are low it shows a poor level of mental readiness, but our faceoff numbers were extremely strong, especially in the first period, which we dominated from a territorial and a shot perspective. Our readiness to play and really compete were there.
As the game unfolded, especially with the bad bounce type of goals with (Princeton's) second and third goals, that's when we started taking some chances from an individualistic basis instead of continuing to play good team hockey. I'm not overly concerned about it, it's been addressed. I'm disappointed by it and I know the players are disappointed too. We'll move on and get past it.
WAP: Did the magnitude of the game play into the team not responding correctly?
SA: First and foremost, I don't believe the magnitude of the game is any larger than any other game. I just don't subscribe to that theory. I don't like the fact that some of our fans and our media have made our season out to be three or four important games and the other ones aren't as important. That's just not the case. (The Freakout) is for the fans and for the history and tradition of our program. It's exciting to have the building like that, but we want to get the building close to that every night, and we're working towards trying to do that.
The magnitude of the game helps you at the start, but it potentially hurts you if get into a bad situation. It can help you with a crowd like that at the beginning, and it did, but it would have been beneficial to score one or two in the first and really get the crowd going. Sometimes you expend a lot of emotional energy in a game like that in the first period, which doesn't leave you with a lot in the tank later in the game. It's a good learning lesson for the guys. We'll be in big games here down the stretch and into the playoffs, and hopefully into Albany and into the NCAA Regionals. It's a lesson in how to handle what are perceived to be big games.
WAP: We know you can't talk about recruits who haven't signed or that aren't on campus, but what can you tell us about Greg Burgdoerfer?
SA: We're expecting him to be a power forward. He's not a guy that is going to do the things with the puck that Chase or Brandon do, but he's going to add an element to our team that we haven't had consistently. He's 6'2", a good skater, tough and mean. Really, a lot like the way his brother plays, just at the forward position. When he was at Air Force he was with a Top 15 team in the country and played about 35 games for them. From seeing him play and talking to his coaches at Air Force, when he played like a power forward, he's an extremely effective college hockey player. Our goal for him is to keep him in the right frame of mind and to coach him in the right way to keep him playing and executing in that role on a day-to-day basis.
WAP: One of the things that was striking about the alumni weekend this year was talking to some of the former players and finding out how much respect they all
had for you, specifically with your outreach to alumni. Can you tell us a little about that outreach and what you look to accomplish with those connections?
SA: I really appreciate them saying that. They said it numerous times over the weekend both privately and publicly. That means a lot to me. I guess it just seems obvious to me that that's the way you should run your program. There's no ulterior motive to it - I'm not doing it to try to get something out of it. We have alums that have done great things in hockey both at RPI and after RPI and that have done great things out of hockey. It's very important to build on the history of our program to make our players understand that, at the end of the day, while it's about the 27 guys in that locker room, there's a lot more to it than that at the college level. It's important for them to feel that. They know the history and tradition, but when today's players get to actually feel and experience it, that's critical in their development as hockey players and as a team.
Some of our alumni are very capable of helping our program with financial gifts, some are capable of helping just with their time. Frankly, I don't care which it is. I just want our alums to stay engaged in the program and come back to events, whether it's alumni weekend, or our golf event, or even if they just come by and say hello to the team. If they're living in Boston, for instance, and we're there for a game, they'll come out for the game on their own and talk to the team. Whatever role they play, it's good for the program.
WAP: Loaded question time. Better goaltender, Allen York now, or Seth Appert in his prime?
SA: Not even close. Allen York. I was a decent college goalie at best. I could have been better if I'd had more understanding and maturity at times. I probably also should have played junior hockey - I came right out of high school at 17 years old. I probably wasn't ready for what college hockey was going to throw at me. So I'm a "do as I say, not as I did" coach when it comes to goaltending, and Allen York is far superior to what I could have even dreamed of being.
WAP: Are we going to see any games against your alma mater in the near future?
SA: We've been trying for a couple of years now, and it's disappointing to me that we haven't been able to place it. We've had them on the schedule unofficially a couple of times, but because of some of the CCHA scheduling and their move to 11 teams this upcoming season, it just hasn't worked out with open weekends that we've both had. I certainly want to; I care very deeply about the Ferris program and I'd love for them to come out here and I'd love the opportunity to go back there.
WAP: Anyone who's played the game has some interesting or odd stories to tell about their playing days. Not to put you on the spot, but do you have one you can share?
SA: (chuckle) What kind of stories are you looking for?
WAP: Family friendly.
SA: Well, I don't think back about those things very often. I usually look back on my time and my career at Ferris on a whole rather than with individual stories. I couldn't have had a better experience. We had a great coaching staff that believed in us as student-athletes and treated us well on and off the ice.
One of my more memorable games was beating Miami in their rink 2-1 on a night that I had about 40 saves. In terms of excitement, we had a large crowd at home for a game that we were losing 4-0 to Illinois-Chicago when I came in as the backup, which was my normal job anyway, and we ended up winning 6-4. It was fun to be part of that and just experiencing how nuts the fans were as we rolled back into the game. From a crowd atmosphere perspective and considering how crazy that game was, it was certainly one of the most memorable.
WAP: Anything you can tell us about the schedule for next season?
SA: We don't release that officially until near the end of the year, but we've got another real good slate of non-conference games coming. Boston University will be coming to Houston Field House, we'll play at Colorado College, we play at Northeastern, so we've got a strong set of non-conference games to go along with the always strong league schedule.
WAP: We were stunned and amazed to find that you were aware of our existence. What do you think of the place?
SA: I'll have to be honest, I don't really get a chance to read it. I know of it and I've referenced it to some fans, though. I don't go on the chat rooms, I don't go on the blogs or the fan forums. Quite frankly, we're just too busy, but I have a great appreciation for what fans like you guys and other fans who have blogs or go into the chatrooms and exchange information and follow our program so passionately. It really does mean the world to me, but at the same time, we're very focused on getting our 27 young men in the right frame of mind to try and win hockey games. We're working in practice and pounding the phones and the Internet for recruiting. There's a little more time for those things as a staff during the offseason and sometimes we'll check them out then, but during the season we get pretty consumed. Quite frankly, during the season I don't get enough time for my family, and whenever I can get away from hockey it's usually spent with my wife and two daughters.
WAP: I don't know if you've seen the posters all over campus: "I Believe in Seth Appert."
SA: Oh yes.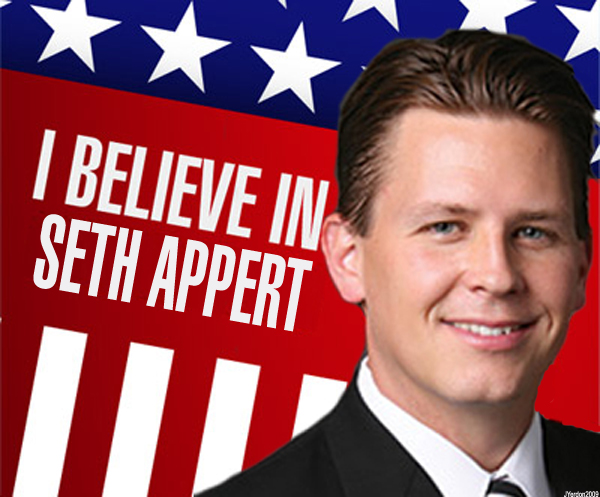 WAP: What do you think of those?"
SA: I appreciate that. My friends get a kick out of it. I've had buddies back in Minnesota and my Ferris State teammates that call and rip on me quite a bit for that. They think it's pretty funny. I've been emailed and kind of ridiculed a bit for it, but I appreciate it all. I don't know who started it and where it came from, but it's just another sign that we have great fan support.
The support that our program, our staff, and that my family and I have received from our fans, alums, and from the community has been tremendous. That's meant a lot to me. We've had some tough times, and I knew those times were going to be there. But I also knew we'd get out of them. I understand how it works. Fans have the right to say what they want to say. There have been times that I've been taken to task and deservedly so, but I don't have a problem with that. I do appreciate the support.
WAP: Final question, it's a trivia question. Pressure's on.
SA: OK.
WAP: Where does the name "Without A Peer" come from?
SA: I like the name, I think it's a very good name, but I do not know where it comes from.
WAP: It's from the Alma Mater. "Here's to old Rensselaer, she stands today..."
SA: "...without a peer." I guess if I'd put a little more thought into it I would have come up with that. I know the Alma Mater, but I certainly know the fight song better. We sing the fight song after victories in the locker room. That's something that we started when we came here as a coaching staff. That's something that we've started as a tradition in the last four years and our players are really into it.
WAP: That must play well into fomenting school pride.
SA: Yeah, I think it does. At the end of the day, we are just 27 young men and a coaching staff and support staff. We're the inner family of RPI hockey, but our extended family consists of our school's alums, our fans and everyone on campus from students and faculty to staff and administration. We represent all of those people, and it's important for us to understand and remember that. It's not to put additional pressure on our guys, it's just to ensure that they have an appreciation that, at RPI, with as big as hockey is here, their actions and how they conduct themselves while they represent the program reflects on more than just themselves.
---
Thanks to Seth for taking the time to speak to a couple of guys who amuse themselves by cutting and pasting people's heads onto other people's bodies,posting pictures of Mike Schafer done up like The Joker, and titling blog posts with song titles and lyrics.